Exhibitions
Temporary exhibitions at Hof van Saksen
Collection Harms shows the world of (Contemporary) Realism. Of course, every artist will interpret the reality in a different way. This results in a large variation of artworks, ranging from Fine Art to Expressionism. To offer our customers as much variety as possible, Collection Harms organises four temporary exhibitions per year. We'll show both new and unknown works and famous and familiar artists. This page contains the latest information on our current and expected exhibitions, as well as our past ones.
Current Exhibition
Colourful Expressionism
Brunet Riegstra
September 27th 2017 – Febuary 27th 2018
Since early childhood Brunet Riegstra (1953) has been interested in building and modelling, ever fascinated by the spatial properties of objects and design. But upon choosing a specialisation at Art Academy Minerva, Riegstra chose paintings. The favours expressionism: with contrasting colours she creates a geometric view of the Frisian fields or, with the same seemingly effortless ease, a tumultuous floral still life. But her fascination for spatial effects still finds a way into her paintings. The flat Dutch fields and vistas are transformed into a landscape with soft curves and subtle hills. Take, for example, Riegstra's depiction of the Balloërveld (Drenthe): hills of purple heath roll lazily to the background and tilt towards the stark blue sky in the background. On the flat surface of her canvas, Riegstra creates a spatial world which far exceeds the reality.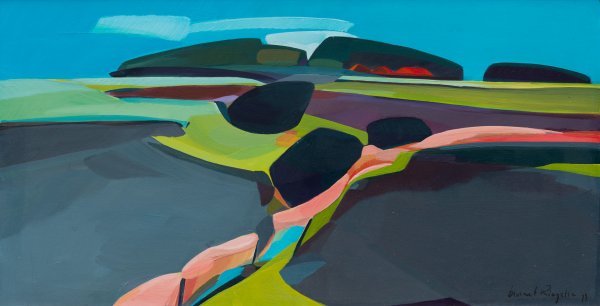 Past Exhibitions
Limitless
Ton Dubbeldam
May 28th – September 28th 2017
A terrace in a French village, bathing in a warm summer light. The grey blue North Sea near Schiermonnikoog. The North Dock in Groningen, shrouded in a dense layer of fog. Ton Dubbeldam (1957) doesn't just paint recognizable, characteristic scenes and locations. By accentuating certain elements, he transforms these familiar scenes to something extraordinary. Dancing reflections from the evening light cast dazzling colours on the surface of the water. Stern shadows on a town square suggest an abstract play of lines and forms. A playful swirling mass of furniture changes an ordinary terrace into a field of squares and spirals. With his works, Dubbeldam opens a window to another reality without bounds or restrictions, blurring the lines between realism and the abstraction.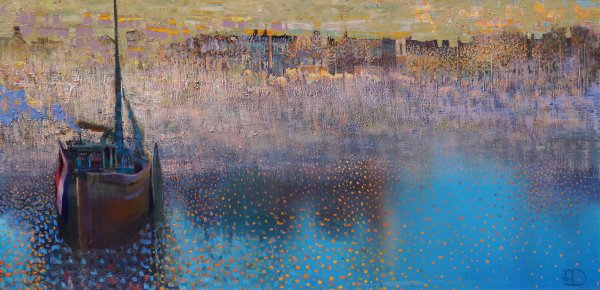 Eye Candy
Elvira Dik
17th of January – 17th of May 2017
It's a feast for the eyes, these large images by Elvira Dik. Beautiful pies in pastel, trinkets and toys and colourful candy that comes tumbling down paper bags. The work shows extreme dedication to detail, with a only the slightest hint of a brushstroke still visible. Yet the stories behind these edible images aren't always pleasant. A good example of this juxtaposition between image and theme is Festen, a depiction of a lavish pie. This still life is inspired by the eponymous Danish movie, in which a family meeting turns into an unexpected disaster. Another example is Unbearable Lightness. Almost hidden between the liquorice are hart shaped pieces of candy with the cool words 'text me' and 'fine' inscribed. These colourful paintings aren't simply eye candy, they're food for thought.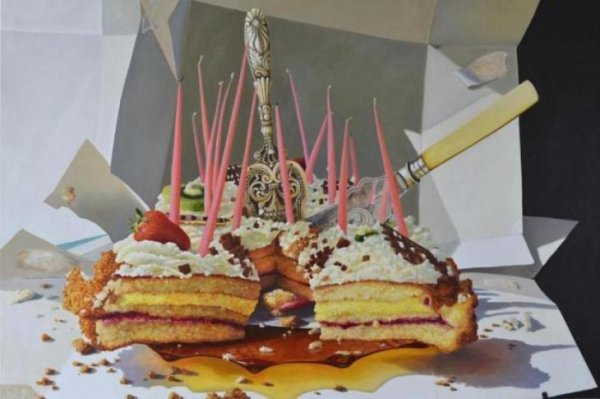 Frisian Expressionism
Dirk Beintema
15th of October 2016 – 15th of January 2017
Colourful clouds
'The only restriction in the art of painting is the restriction that the artist imposes upon himself,' these are the words Dirk Beintema paints by. He started to paint at the age of thirteen and has continued to do so ever since. His favourite theme is landscapes: from cornfields and churches to flax and vista's. Even though his most recent work is made on location, en plein air, what appears on canvas is entirely different from reality. In the imagination of Dirk Beintema anything is possible. Colourful clouds float serenely over a landscape filled with lilac and bright yellow. With his striking colours, Beintema fills his landscapes with a dreamlike quality.